Ecotourism in Vietnam
09/02/2014 | 17:40 | The idyllic beaches of Vietnam and its booming cities in full development have become one of the favorite destinations for the lovers of travels and ecology.

Its turquoise waters, white sand beaches and, above all, its cultural richness are delightly described in the most important traveler's guides. This is because Vietnam, as destination, is highly desirable for being a place out of the ordinary when doing tourism, and because it is definitely out of the well-known circuit of conventional tourism. 
In that sense, Vietnamese have found their counterpart in the chain of hotels and spas Six Senses, which, in turn, has come up with the ideal formula: its five stars facilities are placed in faraway destinations, but at the same time accessible, in areas with an unrivalled natural beauty. The list is large: Thailand, Maldives, Jordan, or China. In the case of Vietnam, Six Senses chose the archipelago of Con Dao, a natural park and a protected maritime zone, a privileged spot, and a subtly luxurious hotel, especially for those who prefer first class ecotourism.
With a contemporary design that reflects the essence of a fisherman village traditional of the area, the hotel has maintained its compromise and passion for respecting and protecting the environment, reason for which it has been recognized as one of the most important green spots of the world. 
Apart from offering delicious food and all the imaginable kinds of total relaxation, the place has a curiosity that makes it unique: a private astronomic observatory to receive up to 30 visitors. Its geographic location in the most southern region of the Asian country makes it very easy for the observer to access totally clear skies and amazing views of Saturn, Venus, Jupiter, and the Moon.
Besides, that area of Con Dao is one of the few places in Vietnam that gives refuge to marine turtles which arrive at its costs during the reproduction ritual to lay eggs in its beaches. Jointly with the National Park of Vietnam, the hotel has established an awareness campaign to turn the area into a sanctuary and to protect the chelonians. Every year, during the spawning season, visitors can observe the process through which marine turtles dig their nests and lay their eggs.
An additional attraction for those who prefer golf over biology are the ecological biodegradable golf balls which contain fish food in its centre and which allow players practice golf in marine environments. In this case, from the summit of the famous Elephant Mountain, on board of a luxurious yacht or in the private beaches of the hotel. Entertaining and unusual, isn't it?
Por favor complete todos los datos. Gracias.
EcoPulso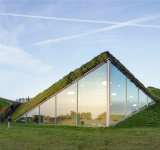 El Museo Biesbosch, ubicado en los Países Bajos fue re diseñado teniendo en cuenta el entorno natural donde está ubicado.
leer nota completa