First South American Eco Lodge receive Green Globe Seal
22/01/2014 | 0:00 | Chepu Adventures EcoLodge, located in Chiloé, won one of the seven World Responsible Tourism Awards presented in London during the Responsible Tourism Day.
Chepu Adventures EcoLodge
in Chiloé won important international award. During 2013, in addition to having received Sernatur´s
Sustainability "S" Seal
, Chepu Adventures was granted the first
Green Globe Seal
 in South America. The prize giving ceremony took place in the context of the World Travel Market,  one of Europe's most important tourism fairs.
The prize was awarded in the Water Conservation category, because this EcoLodge has an innovative system to accumulate water from rain. Besides, guests receive information about the lodge's general and individual consumptions through an electronic screen located in their rooms. This method helps them become aware of their consumptions and allows them to respect water and electricity limits established to maintain the sustainability of the lodge. 
"This award proves that we are on the right path, so we are very happy for locating Chile and Chepu Adventures Ecolodge in this important international showcase", said Amory Uslar, hotel owner.
What is more, Chepu Adventures received the Sustainable Tourism Distinction (S Seal) awarded by Sernatur with the support of the Mesa Nacional de Turismo Sustentable (National Sustainable Tourism Board), which is made up by the Subsecretaría de Turismo (Tourism Undersecretariat), Subsecretaría de Medio Ambiente (Environmental Secretariat), the Consejo Nacional de la Cultura y de las Artes (Arts and Culture National Council), Comité INNOVA Chile de CORFO (INNOVA Chile Comitee of CORFO), FEDETUR, and the Centro Vincular de la Universidad Católica de Valparaíso (Networking Center of the Catholic University of Valparaíso).
Sernatur's country head, Javier Vergara, affirmed that "we are very proud of the fact that a hotel with S Seal obtains this important recognition; this confirms that the facilities with this distinction meet international sustainability standards."
Fernando Ortúzar, Director of Tourism Agency of Los Lagos Region, stressed that "it is a source of pride for our region and a great example to follow; the effort and passion that Amory and Fernando have devoted to making this project sustainable shows that when people do things well and as they should be done, transparently, and meeting with the standards tourists are looking for, results can not be negative."
World Responsible Tourism Awards
, created in 2004, focus on touristic products that preserve, respect and benefit the places where they are inserted and the local communities surrounding them.
Since their beginnings, sustainability work done by Chepu Adventure is based on working to becoming 100 per cent sustainable, and the proof are the advances they own and they offer, for example:
Solar water heaters
Wind energy
Solar panels
Roofs used as rain water collectors 
Saving water in large tanks
Making of compost and recycling litter
Led lights
Lighting controlled with domotics for higher performance
Not using dryers; sheets and towels are air dried  
Sheets and towels are changed under request, otherwise they are changed every 5 days to avoid using a washing machine (in order to save water and electricity).
Plastic bottles are not welcomed, but if a guest takes one to the lodge, he/she is asked to take it with him/her when they leave. Their website contains a message in relation to this. 
Besides, they are working to reduce their carbon footprint to be completely carbon free. To achieve this, they offer the following eco-friendly activities:
kayaking
walks
mammals and bird watching
The last eco-innovation in sustainable activities they offer at Chepu Adventure is navigation in an electric kayak, specially designed for mammals and bird watching because it does not contaminate water, it is silent and it has a recharge system of deep cycle batteries which works with wind energy. All this results in Zero Carbon Footprint activity.
"Having an eco-friendly behavior and going kayaking in total silence during the last 7 years has rewarded us with the company of huillines (river otter) and coipos (coypu) that often swim closely to the kayaks and escort our guests while they navigate along the river".
Quite an example to follow. Congratulations!
Por favor complete todos los datos. Gracias.
EcoPulso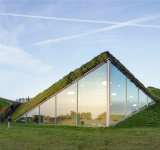 El Museo Biesbosch, ubicado en los Países Bajos fue re diseñado teniendo en cuenta el entorno natural donde está ubicado.
leer nota completa